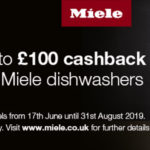 Receive up to £100 cashback on selected Dishwashers

About this promotion
Wash up with Miele... Receive up to £100 cashback off purchases on selected dishwasher appliances when purchasing direct or through a Miele retailer.
This promotion will run from 17th June 2019 until 31st August 2019.
Cashback registrations must be received by 30th September 2019.
When purchasing from a Miele retailer:
Sales Promotion Limited, on behalf of Miele, will deliver the cashback via BACS transfer, within 28 days of validation of your claim.
Culinary arts
The entire world of culinary arts with a few clicks: Portraits of top chefs, kitchen experience - made easy, fabulous cookbooks, fascinating food and drink stories and the newest trends for kitchen, bar and wine cellar - that's what "Miele à la carte" is all about.
Miele Technology
Miele stands for fascinating technology and excellent results combined with minimum energy consumption. This applies to the hygienic and gentle care of every wash your dishwasher provides!
Miele Craftsmanship
Miele stands for true craftsmanship, combining vision, precision and a great deal of attention to detail. Each of our products is manufactured to the highest standard and is subject to stringent quality controls including individual surface tests with gloves. From handles milled from a single piece of metal to matching gap dimensions across all product groups, each element is part of our journey to absolute perfection. Nothing is more important to us than that you enjoy Miele for a long time.
Miele Design
Miele believes in clean lines, timeless elegance and intuitive handling. Whether conventional rotary switch, discreet sensor controls or a high-resolution touch display: operating a Miele is both easy and fun.
Nowhere else will you find such a comparable range of carefully coordinated design lines and colour options, to suit the most diverse kitchen furniture fronts. Whatever the style of your kitchen: Miele is the perfect match.