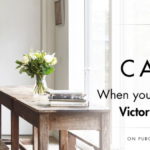 Victoria!
Get £300 cashback with the Victoria Cooker and Hood promotion from SMEG.
However, this offer is available from 05.09.19 - 27.11.19
To qualify for this offer you have to purchase a Victoria Cooker with a Victoria Cooker Hood.
To view all Terms and Conditions and once you have made your purchase, visit SMEGUK
You will be able to make your cashback claim online.
Before you go!
Check out this SMEGUK recipe... Perfect to start warming you up during the Autumn weather.
Chili Con Carne made with Cocoa Powder
Ingredients
•Olive Oil, 1 tbsp.
•Large onion, finely chopped, 1
•Red pepper, finely chopped, 1
•2 garlic cloves, peeled & finely chopped
•1 heaped tsp hot chili powder (or 1 level tbsp. if you only have mild)
•Paprika, 1 tsp
•Ground cumin, 1 tsp
•Cocoa powder, 1 tbsp.
•500g lean minced beef
•1 beef stock cube
•400g can chopped tomatoes
•½ tsp dried marjoram
•1 tsp sugar
•2 tbsp. tomato purée
•410g can red kidney beans, drained
•Boiled long grain rice, to serve
•Soured cream, to serve
Method
Put the oil and onions to a large pan and cook till soft and translucent. Then add garlic, red pepper, chili powder, paprika, cumin and the special ingredient, cocoa powder.
Stir well and leave to cook for a further five minutes.
Add the minced beef to the mixture and stir till all cooked through.
Crumble one beef stock cube into 300ml hot water. Pour this into the pan with the mince mixture.
Now add the chopped tomatoes, dried marjoram and 1 tsp sugar and season to taste.
Squirt in about 2 tbsp. tomato purée and stir the sauce well.
Simmer on low for about 20 minutes.
Combine the red kidney beans to the chili and simmer for a further 10 minutes.
Finally, serve with soured cream and plain boiled long grain rice.
Also... we would add a little grated mature cheddar cheese to melt into the chili.  Therefore we would also add some nachos!
 However, that little extra is us, not Smeg. Yum!