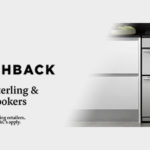 Offer Extended! Now available until August 31st 2019
Redeem by midnight September 30th 2019
From the 1st March to 31st May 2019 you can redeem up to £200 cashback with this amazing Stoves Promotion.
Purchase your Stoves Range Cooker/Mini Range today, instore or online.
The new Stoves collection boasts traditional and modern designs as well as market leading features. Gas through Glass hotplate technology with two 5KW PowerWok Plus™ burners, a steam and Infuse™ cooking accessory and Bluetooth® Zeus™ connected timer. Market leading co-ordinating hoods are also available to complement cookers across the collection.
If you are looking for a more traditional range then take a look at the Richmond and Richmond Deluxe collection, however if your tastes are more contemporary, you should check out the Sterling and Sterling Deluxe collection.
OFFER SUMMARY: From 1st March 2019 –  31st August 2019, Stoves are offering up to £200 cashback on selected cooking appliances including range cookers and mini-range cookers. To qualify for this cashback promotion, the customer simply needs to purchase an eligible appliance and then provide purchase details online to www.stovesrewards.co.uk before the redemption close date of 30th September. The cashback comes in the form of a prepaid Stoves MasterCard which, can be used for purchases made in store, online or over the telephone at any retailer that accepts MasterCard. Please note that the card cannot be used to withdraw money from an ATM.
A full list of eligible SKUs and cashback values are listed in this document.
1. PARTICIPANTS
1.1 This promotion is only open to Residents in the United Kingdom ("UK"). Employees of GDHA (Glen Dimplex Home Appliances), its subsidiary companies, their families, agents and other parties directly involved with this promotion are not eligible to enter. The promotion is only open to participants purchasing for their own use (i.e. end users). Stoves reserves the right to verify the eligibility of Participants and/or exclude Participants at its sole discretion at any time for any reason.
2. HOW TO PARTICIPATE
2.1 This promotion is only available through participating eligible Stoves retailers in Great Britain, Northern Ireland, the Channel Islands, and the Isle of Man.
2.2 To take advantage of this promotion, purchases must be made between 1st March 2019 and 31st August 2019 (inclusive). The cashback claim can only be made online through www.stovesrewards.co.uk.
2.3 A maximum of one (1) qualifying product can be claimed per household during the promotion. The promotion is not available on any second hand, refurbished or reconditioned stock. Please note sales delivery notes, quotations and estimates are not proof of a sales purchase being made.
2.4 Fully completed and correct claim submissions, together with a copy of the original proof of purchase must be received no later than 30th June 2019. Claims cannot be made online after this date and any claims not made online at www.stovesrewards.co.uk by 30th September 2019 will be deemed invalid and not eligible to receive the cashback.
2.5 Each cashback claim is limited to a single use and cannot be used in conjunction with any other promotional voucher or cashback offer against the promotional product, as stated in Article 3.1.
2.6 The customer's proof of purchase must clearly show the Stoves qualifying product purchased, the purchase price, the retailer where purchased and the date of purchase.
2.7 360Incentives.com, on behalf of Stoves, will deliver the cashback via a Stoves prepaid MasterCard, within 28 days of a consumer validating their claim by choosing a virtual or physical card redemption after their claim has been approved. The Stoves prepaid MasterCard can be used for purchases made in store, online or over the telephone at any retailer that accepts MasterCard. Please note that the card cannot be used to withdraw money from an ATM.
2.8 If you have any queries with regards to this promotion, please send an email to: stovesrewards@360incentives.com or contact our Claim Hotline on 0800 014 8941. Phone lines are open from 9am-5pm, Monday to Friday. Calls are free when called from a landline but calls from mobiles may incur charges. Please check with your telephone provider for more details.
3. CASHBACK
3.1 A list of all products included in this cashback offer are listed below broken down by category and cashback value. There are 182 SKUs in total.
SKU Product Colour Cashback Value
90cm Range Cookers
444444435 Richmond S900DF Black £100
444444436 Richmond S900DF Classic Cream £100
444410252 Richmond S900DF Anthracite £100
444444445 Richmond S900EI Black £100
444444446 Richmond S900EI Classic Cream £100
444410253 Richmond S900EI Anthracite £100
444444481 Sterling S900DF Black £100
444444482 Sterling S900DF Stainless Steel £100
444444487 Sterling S900EI Black £100
444444488 Sterling S900EI Stainless Steel £100
444410264 Richmond Deluxe S900DF Anthracite £150
444410261 Richmond Deluxe S900DF Days Break £150
444410259 Richmond Deluxe S900DF Hot Jalapeno £150
444410260 Richmond Deluxe S900DF Icy Brook £150
444410262 Richmond Deluxe S900DF Midnight Gaze £150
444410263 Richmond Deluxe S900DF Soho Green £150
444410258 Richmond Deluxe S900DF Wild Berry £150
444444897 Richmond Deluxe S900DF Black £150
444444898 Richmond Deluxe S900DF Classic Cream £150
444410284 Richmond Deluxe S900EI Soho Green £150
444410285 Richmond Deluxe S900EI Anthracite £150
444410282 Richmond Deluxe S900EI Days Break £150
444410280 Richmond Deluxe S900EI Hot Jalapeno £150
444410281 Richmond Deluxe S900EI Icy Brook £150
444410283 Richmond Deluxe S900EI Midnight Gaze £150
444410279 Richmond Deluxe S900EI Wild Berry £150
444444905 Richmond Deluxe S900EI Black £150
444444906 Richmond Deluxe S900EI Classic Cream £150
444410271 Richmond Deluxe S900DF GTG Anthracite £150
444410268 Richmond Deluxe S900DF GTG Days Break £150
444410266 Richmond Deluxe S900DF GTG Hot Jalapeno £150
444410267 Richmond Deluxe S900DF GTG Icy Brook £150
444410269 Richmond Deluxe S900DF GTG Midnight Gaze £150
444410270 Richmond Deluxe S900DF GTG Soho Green £150
444410265 Richmond Deluxe S900DF GTG Wild Berry £150
444444899 Richmond Deluxe S900DF GTG Black £150
444444900 Richmond Deluxe S900DF GTG Classic Cream £150
444410277 Richmond Deluxe S900G Soho Green £150
444410278 Richmond Deluxe S900G Anthracite £150
444410275 Richmond Deluxe S900G Days Break £150
444410273 Richmond Deluxe S900G Hot Jalapeno £150
444410274 Richmond Deluxe S900G Icy Brook £150
444410276 Richmond Deluxe S900G Midnight Gaze £150
444410272 Richmond Deluxe S900G Wild Berry £150
444444903 Richmond Deluxe S900G Black £150
444444904 Richmond Deluxe S900G Classic Cream £150
444444931 Sterling Deluxe S900DF Black £150
444444932 Sterling Deluxe S900DF Stainless Steel £150
444444939 Sterling S900EI Black £150
444444940 Sterling S900EI Stainless Steel £150
444444933 Sterling Deluxe S900DF GTG Black £150
444444934 Sterling Deluxe S900DF GTG Stainless Steel £150
444444935 Sterling Deluxe S900G Black £150
444444936 Sterling Deluxe S900G Stainless Steel £150
100cm Range Cookers
444444451 Richmond S1000DF Black £150
444444452 Richmond S1000DF Classic Cream £150
444410254 Richmond S1000DF Anthracite £150
444444460 Richmond S1000EI Black £150
444444461 Richmond S1000EI Classic Cream £150
444410255 Richmond S1000EI Anthracite £150
444444491 Sterling S1000DF Black £150
444444492 Sterling S1000DF Stainless Steel £150
444444497 Sterling S1000EI Black £150
444444498 Sterling S1000EI Stainless Steel £150
444410291 Richmond Deluxe S1000DF Soho Green £200
444410292 Richmond Deluxe S1000DF Anthracite £200
444410289 Richmond Deluxe S1000DF Days Break £200
444410287 Richmond Deluxe S1000DF Hot Jalapeno £200
444410288 Richmond Deluxe S1000DF Icy Brook £200
444410290 Richmond Deluxe S1000DF Midnight Gaze £200
444410286 Richmond Deluxe S1000DF Wild Berry £200
444444907 Richmond Deluxe S1000DF Black £200
444444908 Richmond Deluxe S1000DF Classic Cream £200
444410312 Richmond Deluxe S1000EI Soho Green £200
444410313 Richmond Deluxe S1000EI Anthracite £200
444410310 Richmond Deluxe S1000EI Days Break £200
444410308 Richmond Deluxe S1000EI Hot Jalapeno £200
444410309 Richmond Deluxe S1000EI Icy Brook £200
444410311 Richmond Deluxe S1000EI Midnight Gaze £200
444410307 Richmond Deluxe S1000EI Wild Berry £200
444444915 Richmond Deluxe S1000EI Black £200
444444916 Richmond Deluxe S1000EI Classic Cream £200
444410299 Richmond Deluxe S1000DF GTG Anthracite £200
444410296 Richmond Deluxe S1000DF GTG Days Break £200
444410294 Richmond Deluxe S1000DF GTG Hot Jalapeno £200
444410295 Richmond Deluxe S1000DF GTG Icy Brook £200
444410297 Richmond Deluxe S1000DF GTG Midnight Gaze £200
444410298 Richmond Deluxe S1000DF GTG Soho Green £200
444410293 Richmond Deluxe S1000DF GTG Wild Berry £200
444444909 Richmond Deluxe S1000DF GTG Black £200
444444910 Richmond Deluxe S1000DF GTG Classic Cream £200
444410306 Richmond Deluxe S1000G Anthracite £200
444410303 Richmond Deluxe S1000G Days Break £200
444410301 Richmond Deluxe S1000G Hot Jalapeno £200
444410302 Richmond Deluxe S1000G Icy Brook £200
444410304 Richmond Deluxe S1000G Midnight Gaze £200
444410305 Richmond Deluxe S1000G Soho Green £200
444410300 Richmond Deluxe S1000G Wild Berry £200
444444913 Richmond Deluxe S1000G Black £200
444444914 Richmond Deluxe S1000G Classic Cream £200
444444941 Sterling Deluxe S1000DF Black £200
444444942 Sterling Deluxe S1000DF Stainless Steel £200
444444949 Sterling Deluxe S1000EI Black £200
444444950 Sterling Deluxe S1000EI Stainless Steel £200
444444943 Sterling Deluxe S1000DF GTG Black £200
444444944 Sterling Deluxe S1000DF GTG Stainless Steel £200
444444945 Sterling Deluxe S1000G Black £200
444444946 Sterling Deluxe S1000G Stainless Steel £200
110cm Range Cookers
444444466 Richmond S1100DF Black £150
444444467 Richmond S1100DF Classic Cream £150
444410256 Richmond S1100DF Anthracite £150
444444475 Richmond S1100EI Black £150
444444476 Richmond S1100EI Classic Cream £150
444410257 Richmond S1100EI Anthracite £150
444444501 Sterling S1100DF Black £150
444444502 Sterling S1100DF Stainless Steel £150
444444507 Sterling S1100EI Black £150
444444508 Sterling S1100EI Stainless Steel £150
444410319 Richmond Deluxe S1100DF Soho Green £200
444410320 Richmond Deluxe S1100DF Anthracite £200
444410317 Richmond Deluxe S1100DF Days Break £200
444410315 Richmond Deluxe S1100DF Hot Jalapeno £200
444410316 Richmond Deluxe S1100DF Icy Brook £200
444410318 Richmond Deluxe S1100DF Midnight Gaze £200
444410314 Richmond Deluxe S1100DF Wild Berry £200
444444917 Richmond Deluxe S1100DF Black £200
444444918 Richmond Deluxe S1100DF Classic Cream £200
444410340 Richmond Deluxe S1100EI Soho Green £200
444410341 Richmond Deluxe S1100EI Anthracite £200
444410338 Richmond Deluxe S1100EI Days Break £200
444410336 Richmond Deluxe S1100EI Hot Jalapeno £200
444410337 Richmond Deluxe S1100EI Icy Brook £200
444410339 Richmond Deluxe S1100EI Midnight Gaze £200
444410335 Richmond Deluxe S1100EI Wild Berry £200
444444925 Richmond Deluxe S1100EI Black £200
444444926 Richmond Deluxe S1100EI Classic Cream £200
444410327 Richmond Deluxe S1100DF GTG Anthracite £200
444410324 Richmond Deluxe S1100DF GTG Days Break £200
444410322 Richmond Deluxe S1100DF GTG Hot Jalapeno £200
444410323 Richmond Deluxe S1100DF GTG Icy Brook £200
444410325 Richmond Deluxe S1100DF GTG Midnight Gaze £200
444410326 Richmond Deluxe S1100DF GTG Soho Green £200
444410321 Richmond Deluxe S1100DF GTG Wild Berry £200
444444919 Richmond Deluxe S1100DF GTG Black £200
444444920 Richmond Deluxe S1100DF GTG Classic Cream £200
444410333 Richmond Deluxe S1100G Soho Green £200
444410334 Richmond Deluxe S1100G Anthracite £200
444410331 Richmond Deluxe S1100G Days Break £200
444410329 Richmond Deluxe S1100G Hot Jalapeno £200
444410330 Richmond Deluxe S1100G Icy Brook £200
444410332 Richmond Deluxe S1100G Midnight Gaze £200
444410328 Richmond Deluxe S1100G Wild Berry £200
444444923 Richmond Deluxe S1100G Black £200
444444924 Richmond Deluxe S1100G Classic Cream £200
444444951 Sterling Deluxe S1100DF Black £200
444444952 Sterling Deluxe S1100DF Stainless Steel £200
444444959 Sterling Deluxe S1100EI Black £200
444444960 Sterling Deluxe S1100EI Stainless Steel £200
444444953 Sterling Deluxe S1100DF GTG Black £200
444444954 Sterling Deluxe S1100DF GTG Stainless Steel £200
444444955 Sterling Deluxe S1100G Black £200
444444956 Sterling Deluxe S1100G Stainless Steel £200
60cm Mini Range Cookers
444444722 Richmond 600DF Cream £75
444444723 Richmond 600DF Black £75
444444724 Richmond 600DF Hot Jalapeno £75
444444719 Richmond 600E Cream £75
444444720 Richmond 600E Black £75
444444721 Richmond 600E Hot Jalapeno £75
444444728 Richmond 600EI Cream £100
444444729 Richmond 600EI Black £100
444444730 Richmond 600EI Hot Jalapeno £100
444444725 Richmond 600G Cream £75
444444726 Richmond 600G Black £75
444444727 Richmond 600G Hot Jalapeno £75
444440990 Sterling 600DF Black £75
444440989 Sterling 600DF Stainless Steel £75
444440992 Sterling 600E Black £75
444440991 Sterling 600E Stainless Steel £75
444440987 Sterling 600G Black £75
444440986 Sterling 600G Stainless Steel £75
444443707 Sterling 600MFTi Black £100
444443706 Sterling 600MFTi Stainless Steel £100
3.2 The cashback claim form cannot be exchanged for cash. There is no cash alternative to this offer.
3.3 Where the cashback payment constitutes a taxable benefit, the tax liability lies with the recipient.
3.4 In the event that the customer returns the eligible promotional product to the seller/retailer, the participant will not be entitled to claim cashback and the claim will be thereafter dismissed. For the avoidance of doubt, this clause does not prohibit in any way the customer's right to exercise their applicable statutory or warranty rights.
4. THE PROMOTOR
4.1 The promotor is GDHA (Glen Dimplex Home Appliances) t/a Stoves, Stoney Lane, Prescot, L35 2XW. The promotors reserve the right to withdraw the promotion at any time.
5. DATA
5.1 Where applicable, any data captured during the course of the promotion will be collated, accessed, processed and stored wholly in accordance with applicable local data protection laws and regulations. Stoves will not transmit data to unauthorised third parties or outside the EU. For full details on how we will treat your personal data, please visit: https://www.stoves.co.uk/privacy-notice/
5.2 Upon registration, the participant will have provided their personal data to Stoves, and 360Incentives.com, and to its agents, to carry out the promotion and to conduct marketing and quality control analysis. 360Incentives.com and its agents are responsible for securely storing, processing and transferring the participant's personal data wholly in accordance with applicable local data protection laws and regulations. By registering, the participant consents to these terms & conditions. Should the participant tick the opt-in box on the online registration form, the participant also consents that the promoter, other 360Incentives.com entities and/or their agents can process their data for the purposes of advising participants of other promotions, new products and services, and/or future marketing and quality control analysis. Participants have the right to consult and request rectification of their information as held by the promoter.
6. DISCLAIMER
6.1 No responsibility will be accepted for claims lost, delayed or for those claims not received by the closing date.
6.2 Claims will be disqualified if incomplete or illegible after midnight on 30th June 2019. It is the participant's responsibility to ensure that sufficient details are provided for claims to be processed. Stoves reserves the right to investigate and undertake all such action, as is reasonable, to protect itself against fraudulent or invalid claims including, without limitation, to require purchasers to provider further verification as to proof of purchase. In addition, Stoves reserves the right to reject those claims which it considers, in its absolute discretion, are fraudulent or invalid.
6.3 Stoves is not liable for any costs incurred by the participant relating to the promotion.
6.4 Stoves shall not be liable for any delayed claims of any nature with regard to this promotion. However, nothing in these rules shall have the effect of excluding or restricting the customer's liability for personal injury or death cause by the proven negligence of the customer.
6.5 Stoves shall not be liable for any failure to fulfil this offer where such failure is caused by any supervening circumstances amounting to force majeure (meaning: beyond Stoves reasonable control) and/or events which, without the fault of either party, render performances impossible or incapable of satisfactory execution.
6.6 Stoves reserves the right to withdraw this promotion at any time and/or to unilaterally change the terms and conditions without incurring any liability.
7. JURISDICTION
7.1 These terms and conditions are governed by and shall be construed in accordance with English law and come under the exclusive jurisdiction of the English courts.