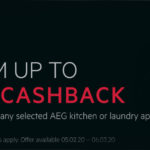 Spring Cashback with AEG
Kick Spring off with an early treat when you buy with Sparkworld and AEG.
Offer available from February 5th until March 6th 2020
Eligible Appliances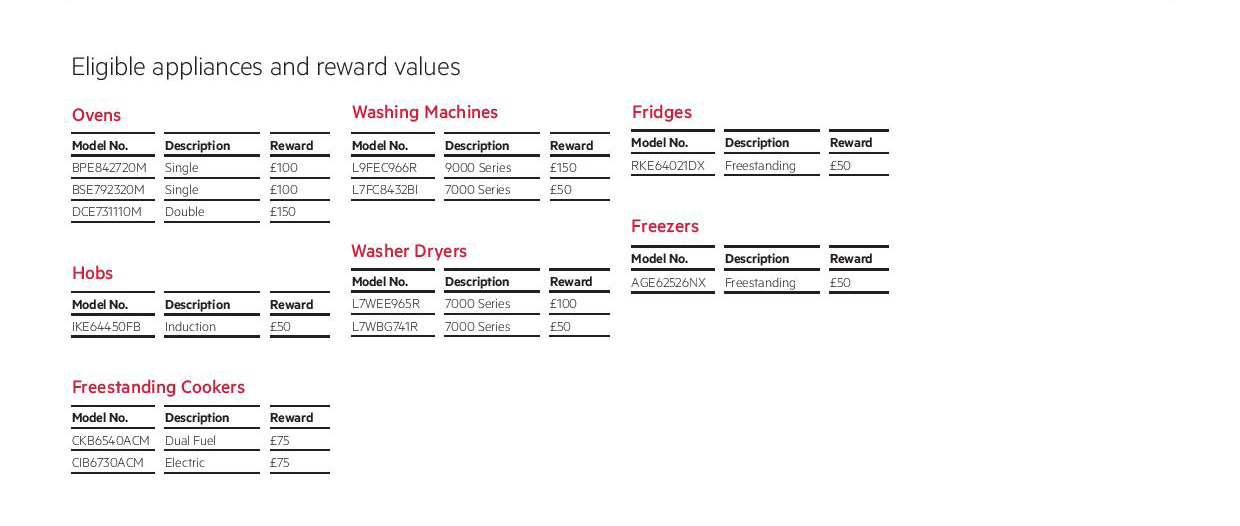 How to claim
Visit AEG Rewards to make your claim.
To claim your reward, please visit aeg.co.uk/claim and follow the step-by-step instructions to register your appliance and claim your cashback.
IMPORTANT INFORMATION:
Before you log on to our promotional site aeg.co.uk/claim, please ensure that you have the relevant documentation ready. 1. Model Number. 2. Scanned image of your sales receipt as a PDF, JPEG or TIF file, clearly showing: the retailer, the model number and the date of purchase.
This information is vital for us to be able to validate your purchase and process your claim as efficiently as possible. The final date for submitting a claim is 3rd April 2020.
For any queries regarding your claim please contact the AEG Promotions team: EMAIL: aegpromo@360incentives.com TELEPHONE: 0808 189 1287 (Freephone when calling from a landline, calls from a mobile may be charged) POST: AEG Early Spring Promotion, Bourne House, 475 Godstone Road, Whyteleafe, Surrey CR3 0BL.
Eligible products included in this promotion are shown at aeg.co.uk/earlyspringpromotion and are subject to product availability.
Why choose AEG?
Looking Forward.
Tomorrow begins today. How we eat will change. The way we dress will change, and how we live will change. We know how technology can enhance the world around us. That's why we make sure our appliances not only exceed your needs today, but also embrace tomorrow's technology to fit your future requirements.
Form and function combine
In 1907, the visionary architect Peter Behrens was appointed Artistic Consultant at AEG. For his work with AEG, Behrens is considered the founder of modern industrial design. Professor Behrens had a simple but powerful design philosophy: 'Perfekt in Form und Funktion'. He worked tirelessly to create not only the most functional AEG products, but also the most aesthetically appealing.