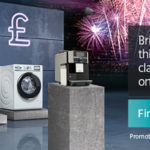 Siemens Autumn Cashback

With Siemens, you have a choice in our range of kitchen and domestic products, which includes Freestanding, Built In and Small Domestic Appliances. Purchasing a Siemens product assures you of quality, reliability and assurance that you need from your everyday product.
The Cashback value is easy to claim. From the 9th October 2019 to 3rd December 2019 simply purchase any of the qualifying appliances and select Cashback. Cashback is paid via MasterCard which will either be in physical form or virtual with the final claim date ending at midnight on 3rd January 2020.
How to claim
In order to claim the cashback you will need the following:
E-Nr/model number (found on your appliance)
Your full postal and email address
Dealer or retailer information
A copy of the original purchase receipt/invoice
To avoid any doubt or confusion, copies of deposit receipts and/or order confirmations will not be accepted.
Alternatively complete a postal claim form by downloading the claim form and post it together with a copy of your receipt to:
Siemens Autumn Cashback,
Bourne House,
475 Godstone Road,
Whyteleafe,
Surrey,
CR3 0BL
If further assistance is required please ring 0800 048 8506 between 9am and 5pm Monday to Friday for more details. Call charges may vary and we may record and monitor calls.
Claims will only be paid upon receipt of a valid purchase receipt. You will need to pay postage for sending the purchase receipt to us. For the avoidance of doubt, copies of deposit receipts and/or order confirmations will not be accepted.
Appliances
Laundry

Description

Model Number

Cashback Reward

Built In
Built-In Washing Machine
WI14W500GB
£70.00
Built-In Washing Machine
WI14W300GB
£50.00
Built-In Washer Dryer
WK14D541GB

£50.00

Built-In Washer Dryer
WK14D321GB

£50.00
Dishwashers

Descriptions

Model Number

Cashback Reward

Freestanding
Full Size Dishwasher
SN278I36TE
£100.00
Full Size Dishwasher
SN258I06TG
£70.00
Full Size Dishwasher
SN258W06TG
£70.00
Full Size Dishwasher
SN258B00NE 
£70.00
Full Size Dishwasher
SN236I03MG
£50.00
Full Size Dishwasher
SN236W03IG
£50.00
Slimline Dishwasher
SR256I00TE
£50.00
Built In
Built-In Slimline Dishwasher
SR636D00MG
£50.00
Built-In Slimline Dishwasher
SR656X01TE
£70.00
Built-In Full Size Dishwasher
SX736X19ME
£70.00

Built-In Full Size Dishwasher

SN736X19ME
£70.00

Built-In Full Size Dishwasher

SN658D02MG
£70.00

Built-In Full Size Dishwasher

SN658D01MG 
£70.00

Built-In Full Size Dishwasher

SN658D00MG 
£70.00

Built-In Full Size Dishwasher

SN678D06TG 
£100.00
Coffee Lovers

Description

Model Number

Cashback Value

Coffee
EQ.9 s300, Black, Coffee Machine
TI923309RW
£300.00
EQ.9 Plus connect s700, Black, Coffee Machine
TI9573X9RW
£300.00