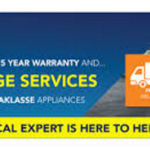 Siemens extraKlasse Promotion.
The Euronics Exclusive Siemens extraKlasse Free Installation Promotion will run from
30.11.18 – 29.03.19 inclusive and is exclusive to Euronics Agents.
Consumers can claim free installation and disposal when purchasing one of the products
shown below.
If you buy online a member of our team will call you to arrange the delivery and disposal, or we will arrange it when you come and visit us instore.
Siemens WM14N190GB 7kg Washing Machine
Siemens WM14T391GB 8kg Washing Machine 

Siemens SN236W02IG 60cm dishwasher
Siemens WM14T492GB 9kg Washing Machine
Siemens WT46G491GB 9kg Condenser Tumble Dryer
Siemens SN236W02MG 60cm Dishwasher
Siemens WT45W492GB 9kg heat pump tumble dryer