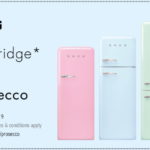 Free Prosecco!
Yes! That's right... Six free bottles of Prosecco when you buy a selected SMEG 50's Style Fridge.

How to claim your Prosecco.
So, once you have purchased your SMEG 50's Style Fridge, visit SMEG Promotions.
Therefore you will be able to make your claim for six bottles of Prosecco online.
This offer is available from 05/09/19 until 27/11/19
You will find full Terms and Conditions when you visit SMEG Promotions.
Claims must be submitted no later than 27/01/2020
About the Prosecco.
Montecoppe Prosecco comes from Smeg's Northern Italian family farm.   Based in the beautiful surroundings of the Emilian countryside, just outside Parma. Montecoppe also supply the very best Parmiggiano Reggiano parmesan cheese, ingredients and accompaniments from its prestigious farm.
Steeped in rich tradition, Montecoppe dates back to Napoleon, whose wife, Duchess Maria Luigia lived on the site. Situated amongst 240 hectares of Cerrega National Park, two thirds of Montecoppe's farmland is rotated annually, therefore it allows for natural regeneration and in-keeping with the farm's organic philosophy of environmentally friendly and responsible farming.
Now that you have your Prosecco... What to do with it?
MIMOSA'S!!!
Ingredients.
1 bottle of Prosecco
2 chilled Oranges
Method.
Juice the oranges.
Fill four champagne flutes 1/2 full with chilled Prosecco.
Fill the remainder of the glass with the freshly squeezed chilled orange juice.
Finally, it's time for a toast!
Also, a bit about SMEG.
Smeg is an Italian home appliance manufacturer based in Guastalla, near Reggio Emilia in northern Italy. Smeg has 18 major subsidiaries worldwide including the UK, France, Belgium, the Netherlands, Germany, Nordics, Spain, Portugal, Russia, Ukraine, Poland, Kazakhstan, South Africa, USA, Australia, Hong Kong, Singapore and Mexico.
For over 60 years now, Smeg appliances have been widely regarded as tasteful and elegant products which combine effortlessly to compliment your mood and style - thanks to Smeg's partnerships with world famous architects.
Not only does Smeg have a unique profile in terms of domestic appliances, it is also renowned in professional business sectors. The Foodservice and Instruments divisions specialise in the area of large-scale restaurant/catering appliances and electro-medical instruments respectively.
The Smeg Group, thanks to a corporate culture which dictates that maximum emphasis be placed on product quality, technology and design, is consequently known all over the globe as one of the key representatives of "Made in Italy" standards.