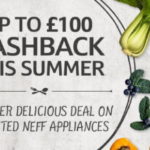 NEFF Cashback 2020 Promotion 22nd July – 1st September 2020 Terms & Conditions
These Terms and Conditions prevail in the event of any conflict or inconsistency with any other communications, including advertising or promotional materials. Participants of the Promotion agree to be bound by these terms and conditions.
1. The NEFF Cashback 2020 Promotion is the offer by the Promoter of up to £100 Cashback (the "Gift") to purchasers (the Gift) in respect of purchases of selected NEFF ovens, hobs, hoods, integrated laundry, and integrated cooling models (as listed below). Purchases must be made between 22nd July to 1st September 2020, for which the Promoter has received a completed and valid claim before Midnight on 1st October 2020. The Gift will be in the form of Bank Transfer or Cheque. Please note Bank Transfer is available for online claims only. Claims for the Gift in the form of a Cheque will be delivered to the address provided on the claim form or online claim.
2. No other offers can be claimed in conjunction with this NEFF Cashback 2020 Promotion.
3. This is a consumer only promotion and full details of the Gift breakdown are available at www.neffhome.com/uk/cashback-promotion.
4. Qualifying Models / Gift Values: The following NEFF appliances are included within this promotion:
Category
Model list
Description
Cashback Value
Cavity Cooking
B1ACE4HN0B
Single Oven
£50
B2ACH7HH0B
Single Oven
£70
B3ACE4HN0B
Single Oven
£70
B4ACF1AN0B
Single Oven
£70
B4ACM5HH0B
Single Oven
£70
B5ACH7AH0B
Single Oven
£100
B5ACM7HH0B
Single Oven
£100
B6ACH7HH0B
Single Oven
£100
B4AVH1AH0B
Single Oven
£100
B5AVH6AH0B
Single Oven
£100
J1ACE4HN0B
Double-Under Oven
£100
U1ACI5HN0B
Double Oven
£100
U2ACM7HN0B
Double Oven
£150
C1AMG84N0B
Compact Oven
£70
Hobs
T46FD53X2
Induction Hob
£50
T48FD23X2
Induction Hob
£100
T56FD50X0
Induction Hob
£70
T58FD20X0
Induction Hob
£100
T27DS59N0
Gas Hob
£50
T26DS49N0
Gas Hob
£30
T27BB59N0
Gas Hob
£50
Hood
D94BHM1N0B
Chimney Hood
£70
D64BHM1N0B
Chimney Hood
£50
D92QBC0N0B
Chimney Hood
£70
D62QBC0N0B
Chimney Hood
£50
D65IHM1S0B
Angled Chimney Hood
£50
D95IHM1S0B
Angled Chimney Hood
£70
Cooling
KI5872F30G
Built-in Fridge Freezer
£50
KI6873F30G
Built-in Fridge Freezer
£70
KI2823F30G
Built-in Fridge
£70
KI2822S30G
Built-in Fridge
£50
KI1812S30G
Built-in Fridge
£50
K1514X7GB
Built-in Fridge
£50
G1524X7GB
Built-in Freezer
£50
KI7853D30G
Built-in Fridge Freezer
£70
KI5852SF0G
Built-in Fridge Freezer
£50
KI5852FF0G
Built-in Fridge Freezer
£50
KI7862F30G
Built-in Fridge Freezer
£50
KI1813FE0G
Built-in Fridge
£70
GI7813EF0G
Built-in Freezer
£70
KA3902B20G
Side-by-Side Refrigerator
£100
KA3902I20G
Side-by-Side Refrigerator
£100
Laundry
W543BX1GB
Built-in Washing Machine
£70
V6320X1GB
Built-in Washer Dryer
£70
V6540X1GB
Built-in Washer Dryer
£100
5. Gift values are not transferable. Purchases of graded, seconds, replacements and imperfect products and all appliances purchased on a trade or contract basis i.e. non consumer purchases are excluded from the Promotion.
6. The promotion is open to residents of the United Kingdom, Channel Islands, Isle of Man and Northern Ireland only excluding employees and close family members of retailers. Appliances purchased via kitchen design specialists are not eligible for this promotion.
7. The Promotion, which starts on 22nd July 2020 and ends on 1st September 2020, only applies to purchases made on or between these dates. Claims must be received by the Promoter before Midnight on 1st October 2020 and the Promoter will not accept any claims received subsequently.
8. The Promotion is offered via participating retailers only and only participating retailers will have the official advertising literature.
9. In order to claim the Gift, claimants must fully complete the online claim form (including receipt number, ENR number and full address when claiming for a cheque), which is available on www.neff-home.com/uk/cashback-promotion or alternatively you can download a claim form from www.neff-home.com/uk/cashback-promotion, and submit this by post to NEFF Promotions, The Cow Shed, Walnut Tree Farm, Lower Stretton, Cheshire WA4 4PG. A copy of original purchase receipts must be sent with all claim forms. For the avoidance of doubt, copies of deposit receipts and/or order confirmations will not be accepted. Nor will partial or illegible proof of purchase.