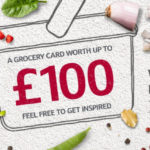 NEFF Grocery Card Promotion
Get creative with our compliments and claim a Grocery Card worth up to £100 to spend at a top supermarket, only with selected NEFF Appliances - See below for qualifying appliances and terms and conditions
NEFF Grocery Card Terms and Conditions 16.09.2020 - 27.10.2020
If you're passionate about cooking, Neff have the appliances to take it to the next level
Single ovens - Endless Possibilities
If you need an appliance that complements your cooking style, look no further than Neff single ovens range.
CircoTherm
With CircoTherm, you can evenly cook completely different dishes at one time, using all oven levels, without any intermingling flavours. This hot air seals food quickly, retaining moisture and preventing flavour transfer.
VarioSteam
Family feasts, cooked to perfection. VarioSteam® gives dishes just the right amount of moisture by adding steam at three intensity levels, meaning all your dishes retain their gorgeous colour and flavour. A low level is perfect if you're reheating a dish you've cooked earlier and a higher level is great for baking bread. You can also select from some preset programmes to help you achieve the perfect moist environment while cooking. The water container is easy to remove and fill, meaning you can have delicious cooking in the quickest time
Pyrolytic Cleaning
The Pyrolytic self-cleaning function makes scrubbing the oven a thing of the past. With the touch of a button, you can reduce the food deposits and grease in your oven to ash, waiting to be simply wiped away. When you activate the Pyrolytic Self-Cleaning cycle, high temperatures of up to 485°C turn baking, roasting and grilling spatter and residue into dust. Once the oven has cooled, simply wipe the residue away with a cloth. The whole process only takes 1-2 hours depending on the degree of soiling, there are three cleaning programmes to choose from:
• Light residue approx. 1 hour, 15 minutes.
• Medium residue approx. 1 hour, 30 minutes.
• Intensive cleaning approx. 2 hours.
Induction hobs - Fast and flexible
Are you fond of exploring new and untried recipes and tastes? Neff's range of induction hobs lets you indulge each and every second of the cooking experience. Our FlexInduction hobs allow you to move your cookware freely around on the hob. The pots are automatically detected and heat applied where it's needed. There's more to our hobs to guide you to a tasty result, take the TwistPadFire® which puts heat at your fingertips. A simple rotating motion with your index finger allows you to set the temperature
Neff FlexInduction Venting Hob frees you to place the hob wherever you want, whether it be on a kitchen island or in front of a window. With no hood in the way, there's nothing to block your view or creativity. With a stylish cast-iron grate placed over the hood, the grate conveniently doubles as a pan rest too – even when it's on
Hoods - The finishing touch
Neff hoods are designed to cater for every kitchen. Efficient, quiet and equipped with built-in ambient lighting, the design and placement of your hood can be can be as flexible as your living space.
Claim your grocery card here