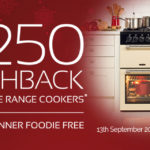 Christmas Cashback from Leisure.
Leisure Cashback offer is available on purchases of selected Leisure Range cookers from 13th September 2018 to 23rd January 2019 inclusive from participating retailers.
Terms and Conditions Apply.
Cashback claims must be made no sooner than 30 days and no later than 60 days after purchase and be submitted either online or by postal redemption by visiting www.leisurepromo.co.uk where FULL Promotional Terms and Conditions are also available.
CK110F232R Leisure Dual Fuel Range Cooker
The Leisure brand has over 120 years of range cooking history. Staying true to that history they ensure every range cooker that they produce has the very highest quality and performance, combined with the latest cutting edge design.
Since its beginnings over 230 years ago, Leisure has been synonymous with innovation. The most significant development resulting from this pioneering spirit was the introduction of the first ever range cooker in 1883.
The rich history of the Leisure brand has helped to become one of the largest range cooker brands in the UK.