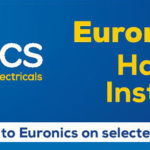 Installations half price with Neff.
Installations of selected Neff appliances will be half price from February 3rd until March 16th 2020.

Eligible products.
Why choose Neff
Neff Food Odyssey
Meet John Quilter aka the Food Busker.
Chef John Quilter's a pro at rustling up a feast on the go – be it on a market stall or at a festival. He's spent the past few years hunting out and recreating the hottest new trends in London's street food for his Food Busker channel on YouTube. John now got over 100k followers and it's one of the UK's fastest-growing food channels. He's also launched an award-winning coffee company and starred in TV's Food Junkies – even Jamie Oliver's a fan.
The NEFF Food Odyssey is a project close to John's heart as he's passionate about meeting the people behind the UK's amazing food scene and discovering what inspires them. He's been travelling around the UK meeting six selected local producers – just a few of today's food heroes – each of whom cares deeply about what they put on our tables. All are passionate about sustainability and how they impact their communities and the UK food industry as a whole. John's been lucky enough to spend time with them all to see what they do – and what the end result tastes like.
Follow John's adventures in the Food Odyssey van, which has been kitted out with a kitchen and state-of-the-art NEFF Slide&Hide® ovens. He'll be using the user-friendly oven functions to bring out the best from his ingredients and, thanks to the unique disappearing door, get closer to the cooking. The result? Delicious dishes inspired by what he discovered along the way.