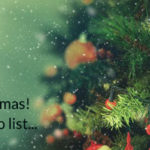 Can you believe that Christmas is six months away?
Ok, I know... Six months may as well be a life time away! However, we all know that as soon as the summer holiday has finished, Christmas is the first thing on everyone's minds! The shops start selling Advent Calendars. The big supermarkets start advertising on every platform possible to try and sell a £200 toy to each of your children!
So we have come up with some forward thinking tips to help with the upcoming mayhem, that is Christmas!
July/August
Family.
It is a good idea to have a discussion with family and friends and start to determine who is going to host Christmas this year... Is it you, or the in-laws? I get it, Christmas seems like a Millennium away, however this will really help you to start making key decisions about budgets etc..
Once you know who and where you will be spending your festive season with, the next step is to make a list of the people whom you intend to buy presents for.  Once you have this pegged, you can now set a budget!  You also have the luxury of having five months to save!
Kitchen.
Are you thinking about a new kitchen? One that can cater for extra guests and the demands it creates. Now is the time to be visiting our Kitchen Designers to find out how we can help you to transform your Kitchen in time for Christmas!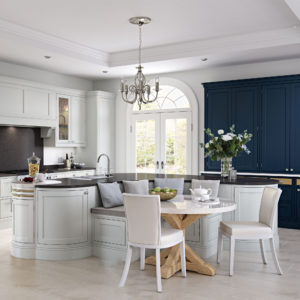 September/October
Travel.
Are you going to be travelling to visit loved ones? Now is the time to start making those arrangements.  Booking flights, trains or buses? Hiring a car? Do it now before they sell out!  It is the busiest time of year, so don't be disappointed!  This goes for hotel bookings also...
Décor.
Start researching the styles you like. Use sites like Pinterest to get an idea of what feel you wish to create in your home.  Are you a traditionalist? Do you prefer a more modern approach?  Would you like to see your home full of winter blooms, rather than trees and tinsel?  Once you have found a style you like, make a list of what you need and stick to it.  It is so easy to be seduced by the bright twinkling colours of the Christmas department, that you can quickly overspend on items that do not match your theme or budget.
November
Declutter.
Get rid of the old toys that the children don't play with anymore... Don't throw them away, if you can, donate them to a local charity so another child can get enjoyment out of them too! Clean the cupboards and the random drawers.  It is amazing how much better a house can feel just by getting rid of the old things that are taking up space.
Bake Ahead.
Did you know that you can bake ahead of time. Things like Ginger biscuits and un-iced cakes can be baked and then frozen until needed! That will save you valuable time... and also help get you into the festive spirit!
Start Shopping.
Most people now wait for Black Friday (Friday 29th November 2019). You can get some amazing bargains in store and online with most retailers.
Order the Turkey.
Whether you order the Turkey from your local butcher or supermarket, now is the time to order your Christmas dinner must haves!
December
Wrap Presents.
I know it sounds like a daft one to mention... but wrap the presents sooner rather than later! No one wants to being doing this at 11:59pm on Christmas Eve!
Organise Your Kitchen.
If you are hosting, you're going to spend a lot of time in the kitchen. Make it as pleasant as an experience as possible by sorting through unnecessary clutter, cleaning your oven and ensuring you have enough pots and pans in advance. You'll thank yourself come Christmas day.
Take Inventory of Plates & Cutlery.
Are you a few plates short? Have more forks than knives? Now is the time to update your tableware and cutlery sets in time for the big event.
Christmas Eve
Set The Table.
If you have the space, it would be a great idea to set the table the night before. Little things like this can really help take the stress off the big day!
Last Minute Wrapping.
Those last minute purchases...wrap 'em quick!
Relax.
Time to watch the Gavin and Stacey Christmas Special with a glass of Prosecco and your favourite nibbles!