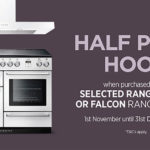 Falcon and Rangemaster.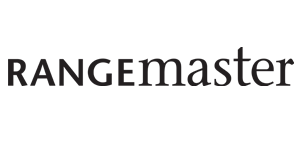 Get a half price hood when you purchase a Falcon or Rangemaster Range Cookers.
This offer is available from 01/11/19 until 31/12/19
Choose from a half price Rangemaster Chimney, Rangemaster Classic Chimney, Rangemaster Flat or Falcon Super Flat Hood.
The range cooker and hood must be purchased at the same time.
Why Range Cooking
A freestanding range cooker has so many advantages over the built-in oven. As well as providing a statement centerpiece to the kitchen – whether it's professional-style stainless steel or a colourful finish – a range cooker can offer so much more in terms of cooking capacity and flexibility.
Choose a Rangemaster range cooker and you can benefit from a bigger oven – two ovens if you prefer – including a multifunctional oven that can defrost, fan grill, brown and fan assist, with rapid response for faster heat-up times. You'll also have a high-powered grill, a choice of gas, ceramic or induction hob, powerful wok burner and storage drawer. That's a lot packed into a cooker that's only 30cm wider than a standard built-in oven.
Don't forget you can choose from a variety of sizes, styles and colours to suit your scheme, so no matter what your culinary needs are, a range cooker is the ultimate all-in-one solution.
Rangemasters Buying Guide
Whether you need a new cooker to replace your old one or you simply want an upgrade, finding the right one for you can be a challenging task. There are a number of points that you need to consider when buying a new cooker, such as your fuel supply, the type of cooker that you want, the features that you need, the size and the installation process – which is why we have created this guide. With our Buyer's Guide finding the perfect cooker for your kitchen is easy.