Siemens Refrigeration Cashback Promotion
Purchase a Siemens Mulit-Door fridge freezer and receive up to £500 in cashback. T&C's below.
Purchase on of the Siemens multi-door fridge freezers below and receive up-to £500 cashback. T&C's
Models Included –
| | | |
| --- | --- | --- |
| Model | Description | Cashback Value |
| KF96NVPEAG | Siemens Multi-Door Fridge Freezer | £350 |
| KF96NAXEAG | Siemens Multi-Door Fridge Freezer | £500 |
Capacity to create
Get the most out of your recipes. Effortlessly store and organise all your fresh ingredients in Siemens spacious American style multi-door fridge freezers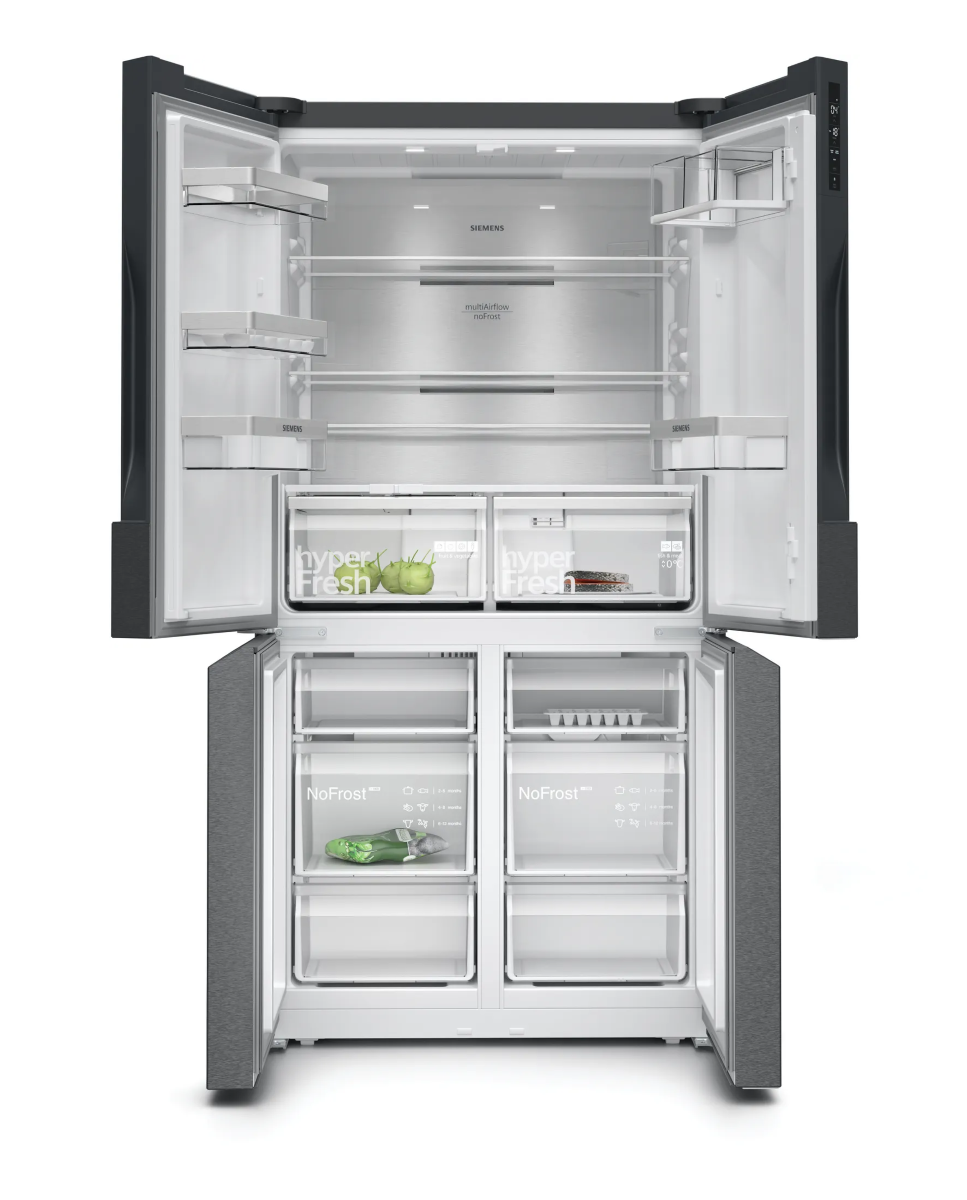 Siemens range of American Style Refrigeration come in a variety of sizes and configurations to match your style. From the classic side by sides, to French Doors and our sleek high-end model that combines the traditional 2 door design with a luxurious beverage drawer and large capacity freezer.
From the premium double-width shelving to the sleek outer finishes – the American Style multi-door is designed to stand out in your kitchen. Behind the scenes, our cooling technologies such as multiAirFlow and fresh boxes provide the optimum temperatures to keep all your food and drink at its best.
Busy lives need something a little different. You need the ability to grab and go when the moment takes you.
Take control of your day with our American Style Multi Door fridge freezers. Adjustable shelves, 0°C drawers and XXL capacity make it quick and easy to find what you need for the day ahead.
Looking for that extra space for your weekly shop? Easily store all your food in our extra-large American Style Multi-Door fridge freezers. Large hyperFresh boxes keep your fruit and veg fresher for longer, so you waste less.
Terms & Conditions
The Siemens Refrigeration Cashback Promotion is the offer by the Promoter of a cashback of up to £500 (the "Gift") to purchasers on purchases of selected Siemens Multi-Door Fridge Freezer models. Claims are valid for purchases made between 13th July to 23rd August 2022 and for which the Promoter has received a completed and valid claim 30 days after purchase and by 30th September 2022. Consumers can register their claim when the product is purchased, however this claim will not be validated before 30 days after purchase date. Please note that Purchasers will be able to choose their Gift during the redemption process and that the Gift will be in the form of either:
a. A BACS Transfer (only available for online claims) or
b. Cheque which will be delivered to the address provided on the claim form
No other offers can be claimed in conjunction with the Siemens Cashback Promotion.
This is a consumer only promotion and full details of the cashback breakdown are available at www.siemens-home.bsh-group.com/uk/promotions/cooling-cashback
The Siemens Cashback Promotion only applies to purchases of the following Siemens appliances with the corresponding value of Cashback value:
Model Description Cashback Values
KF96NVPEAG Siemens Multi-Door Fridge Freezer £350
KF96NAXEAG Siemens Multi-Door Fridge Freezer £500
Purchases of graded, seconds, replacements and imperfect products are excluded from the Promotion.
All appliances purchased on a trade or contract basis (i.e. non consumer purchases) are excluded from the Promotion.
The promotion is open to residents aged 18 and over of the United Kingdom, Channel Islands, Isle of Man and Northern Ireland only.
The Promotion, which starts on 13th July 2022 and runs until 23rd August 2022, both days inclusive, only applies to purchases made on or between these dates. The Promoter must receive a completed and valid claim 30 days after purchase and by 30th September 2022. Consumers can register their claim when the product is purchased, however this claim will not be validated before 30 days after purchase date.
The Promotion is offered via participating retailers only and only participating retailers will have the official advertising literature.
How to Claim:
a. In order to claim the Gift, claimants must fully complete the online claim form (including full Receipt, photograph of ENR number and full address). The online claim form is available on www.siemens-home.bsh-group.com/uk/promotions/cooling-cashback. A claim form can also be downloaded from www.siemens-home.bsh-group.com/uk/promotions/cooling-cashback and submitted by post to
'Siemens Refrigeration Cashback Promotion', The Cow Shed, Walnut Tree Farm, Lower Stretton, Cheshire WA4 4PG.
b. Claims must be received by the Promoter no later than midnight on the 30th September 2022 and the Promoter will not accept any claims received subsequently.
c. If an ENR number cannot be provided at the time of the claim because the appliance has not been delivered by 30th September 2022, please state when the delivery is expected and complete the claim after delivery has taken place and before 31st October 2022.
d. A copy of original purchase receipts must be provided for claim forms. For the avoidance of doubt, copies of deposit receipts and/or order confirmations will not be accepted. Purchasers can call the helpline 01565 747 102.
Claims are posted at claimants risk and proof of sending is not proof of receipt.
The Promoter reserves the right to investigate and undertake all such action, as is reasonable, to protect itself against fraudulent or invalid claims including, without limitation, to require claimants to provide further verification as to proof of purchase. In addition, the Promoter reserves the right to reject those claims which are, in their opinion, fraudulent or invalid.
The Cashback will not be paid in the event that the product purchased is returned to the relevant retailer.
Claims on purchases made on Amazon and supplied by a third party will not be accepted. Only claims for products supplied directly by Amazon will be accepted through Amazon purchases.
Claimants should allow up to 3 weeks for dispatch of the Cheque and 28 days for the release of the Bank Transfer funds, from the date of the Promoter's confirmation of claim approval.
All claim forms and copy purchase order receipts, once received by the Promoter, will become its property and will not be returned to claimants therefore please ensure you keep a copy. The decision of the Promoter in all matters is final and binding and no correspondence shall be entered into.
By submitting a claim, claimants agree to be bound by these terms and conditions.
In the unlikely event that a claimant is unhappy with their Siemens appliance and wishes to return it for a full refund, such refund is conditional upon return of the Gift i.e. the cashback.
The Promoter reserves the right to withdraw, extend or amend the terms of this promotion at any time due to circumstances beyond its control.
All correspondence should be sent to 'Siemens Refrigeration Cashback Promotion' Marketing Lounge Partnership of The Cow Shed, Walnut Tree Farm, Lower Stretton, Cheshire WA4 4PG or through https://siemenstreats.co.uk/refrigerationcash/contact-us or calling 01565 747 102.
The Promotion is subject to the laws of England and Wales and the courts of England and Wales shall have non-exclusive jurisdiction.
The Promoter is Siemens Home Appliances, a division of BSH Home Appliances Limited, a company registered in England and Wales under company registration no.01844007, whose registered office is at Grand Union House, Old Wolverton Road, Wolverton, Milton Keynes, Buckinghamshire, MK12 5PT, UK.
This Promotion is carried out and facilitated by the Marketing Lounge Partnership on behalf of the Promoter.
The Data Controller and Data Processor (as defined in the General Data Protection Regulations ((EU) 2016/679)) is the Marketing Lounge Partnership of The Cow Shed, Walnut Tree Farm, Lower Stretton, Cheshire WA4 4PG. The privacy policy for the Marketing Lounge Partnership can be found at https://siemenstreats.co.uk/privacy-policy.