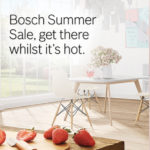 Take advantage this summer of the amazing discounts from Bosch.  This promotion runs from Wednesday 17th July 2019 to Tuesday 10th September 2019.
There are no discount codes, and you don't have to go online to redeem any cashback! The work has already been done for you!  The summer sale prices have already been applied to each individual product on our website.  So all you need to do, is get the laptop out... put your feet up with a nice cup of tea, and shop at your leisure!  Don't forget that with Sparkworld we provide Free Local Delivery, and we can connect your new appliance and take away your old one too!  We'll even get rid of all the rubbish as well...
Did you know that Sparkworld are an environmentally conscious company and we recycle everything we can!  Plus we use our own fleet of lorries and vans to deliver, minimizing our carbon footprint!
So what are you waiting for? Get guilt free shopping, today!

The Bosch Summer Sale.
Dishwashers.
Cooking.
Refrigeration.
One of the reasons we love to partner with Bosch, is because they are as passionate as we are about being environmentally friendly and being sustainable. Find out more about Bosch Green Technology