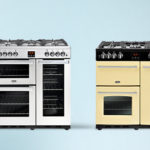 Belling Cashback - Get up to a tasty £150 Cashback
From the 15th July March to 31st August 2019 you can redeem up to £150 cashback with this sizzling Belling Promotion.
Purchase your Belling Range Cooker, instore or online and you can get up to a tasty £150 Cashback
Belling range cookers revolutionise life in the kitchen. Whether you've got a large family to feed or simply love to cook, you can't beat the functionality and flexibility afforded by one of our 90cm, 100cm or 110cm models. Plus, every stylish range cooker is manufactured right here in Britain.
Our gas, electric and dual-fuel range cookers are all rated A for energy efficiency, and come in a range of colours including black, stainless steel and cream. Look out for market-leading features like our 91-litre tall oven, Link+ induction technology, and 7-burner gas hob with 4kW PowerWok burner.
OFFER SUMMARY: From Monday 15th July to Saturday 31st August, Belling are offering up to £150 cashback on new Farmhouse or Cookcentre Belling range cookers. To qualify for this cashback promotion, the customer simply needs to purchase either a new Farmhouse or Cookcentre range cooker, and then provide purchase details online to www.bellingrewards.co.uk before the redemption close date of Monday 30th September 2019. The cashback comes in the form of a prepaid Belling MasterCard which, can be used for purchases made in store, online or over the telephone at any retailer that accepts MasterCard. Please note that the card cannot be used to withdraw money from an ATM.
A full list of eligible SKUs and cashback values are listed in this document.
1. PARTICIPANTS
1.1 This promotion is only open to Residents in the United Kingdom ("UK"). Employees of GDHA (Glen Dimplex Home Appliances), its subsidiary companies, their families, agents and other parties directly involved with this promotion are not eligible to enter. The promotion is only open to participants purchasing for their own use (i.e. end users). Belling reserves, the right to verify the eligibility of Participants and/or exclude Participants at its sole discretion at any time for any reason.
2. HOW TO PARTICIPATE
2.1 This promotion is only available through participating eligible Belling retailers in Great Britain, Northern Ireland, the Channel Islands, and the Isle of Man.
2.2 To take advantage of this promotion, purchases must be made between Monday 15th July and Saturday 31st August 2019 (inclusive). The cashback claim can only be made online through www.bellingrewards.co.uk.
2.3 A maximum of one (1) qualifying product can be claimed per household during the promotion. The promotion is not available on any second hand, refurbished or reconditioned stock. Please note sales delivery notes, quotations and estimates are not proof of a sales purchase being made.
2.4 Fully completed and correct claim submissions, together with a copy of the original proof of purchase must be received no later than 30th September 2019. Claims cannot be made online after this date and any claims not made online at www.bellingrewards.co.uk by 30th September 2019 will be deemed invalid and not eligible to receive the cashback.
2.5 Each cashback claim is limited to a single use and cannot be used in conjunction with any other promotional voucher or cashback offer against the promotional product, as stated in Article 3.1.
2.6 The customer's proof of purchase must clearly show the Belling qualifying product purchased, the purchase price, the retailer where purchased and the date of purchase.
2.7 360Incentives.com, on behalf of Belling, will deliver the cashback via a Belling prepaid MasterCard, within 28 days of a consumer validating their claim by choosing a virtual or physical card redemption after their claim has been approved. The Belling prepaid MasterCard can be used for purchases made in store, online or over the telephone at any retailer that accepts MasterCard. Please note that the card cannot be used to withdraw money from an ATM.
2.8 If you have any queries with regards to this promotion, please send an email to: bellingrewards@360incentives.com or contact our Claim Hotline on 0800 051 5780. Phone Lines are open from 9am-5pm, Monday to Friday. Calls are free when called from a landline but calls from mobiles may incur charges. Please check with your telephone provider for more details.
3. CASHBACK
3.1 A list of all products included in this cashback offer are listed below broken down by category and cashback value. There are 78 SKUs in total.
SKU Product Colour Cashback Value
90cm Range Cookers
444444070 Cookcentre 90DFT Stainless Steel £100
444444069 Cookcentre 90DFT Professional Stainless Steel £100
444444071 Cookcentre 90DFT Black £100
444444073 Cookcentre 90E Stainless Steel £100
444444072 Cookcentre 90E Professional Stainless Steel £100
444444074 Cookcentre 90E Black £100
444444079 Cookcentre 90EI Stainless Steel £100
444444078 Cookcentre 90EI Professional Stainless Steel £100
444444080 Cookcentre 90EI Black £100
444444076 Cookcentre 90G Stainless Steel £100
444444075 Cookcentre 90G Professional Stainless Steel £100
444444077 Cookcentre 90G Black £100
444444106 Cookcentre 90DFT Deluxe Stainless Steel £100
444444107 Cookcentre 90DFT Deluxe Professional Stainless Steel £100
444444105 Cookcentre 90DFT Deluxe Black £100
444444121 Farmhouse 90DFT Black £100
444444123 Farmhouse 90DFT Cream £100
444444122 Farmhouse 90DFT Silver £100
444444124 Farmhouse 90E Black £100
444444126 Farmhouse 90E Cream £100
444444125 Farmhouse 90E Silver £100
444444130 Farmhouse 90EI Black £100
444444132 Farmhouse 90EI Cream £100
444444131 Farmhouse 90EI Silver £100
444444127 Farmhouse 90G Black £100
444444129 Farmhouse 90G Cream £100
444444128 Farmhouse 90G Silver £100
444444157 Farmhouse 90DFT Deluxe Black £100
444444159 Farmhouse 90DFT Deluxe Cream £100
444444158 Farmhouse 90DFT Deluxe Silver £100
100cm Range Cookers
444444082 Cookcentre 100DFT Stainless Steel £150
444444081 Cookcentre 100DFT Professional Stainless Steel £150
444444083 Cookcentre 100DFT Black £150
444444085 Cookcentre 100E Stainless Steel £150
444444084 Cookcentre 100E Professional Stainless Steel £150
444444086 Cookcentre 100E Black £150
444444091 Cookcentre 100EI Stainless Steel £150
444444090 Cookcentre 100EI Professional Stainless Steel £150
444444092 Cookcentre 100EI Black £150
444444088 Cookcentre 100G Stainless Steel £150
444444087 Cookcentre 100G Professional Stainless Steel £150
444444089 Cookcentre 100G Black £150
444444133 Farmhouse 100DFT Black £150
444444135 Farmhouse 100DFT Cream £150
444444134 Farmhouse 100DFT Silver £150
444444136 Farmhouse 100E Black £150
444444138 Farmhouse 100E Cream £150
444444137 Farmhouse 100E Silver £150
444444142 Farmhouse 100EI Black £150
444444144 Farmhouse 100EI Cream £150
444444143 Farmhouse 100EI Silver £150
444444139 Farmhouse 100G Black £150
444444141 Farmhouse 100G Cream £150
444444140 Farmhouse 100G Silver £150
110cm Range Cookers
444444094 Cookcentre 110DFT Stainless Steel £150
444444093 Cookcentre 110DFT Professional Stainless Steel £150
444444095 Cookcentre 110DFT Black £150
444444097 Cookcentre 110E Stainless Steel £150
444444096 Cookcentre 110E Professional Stainless Steel £150
444444098 Cookcentre 110E Black £150
444444103 Cookcentre 110EI Stainless Steel £150
444444102 Cookcentre 110EI Professional Stainless Steel £150
444444104 Cookcentre 110EI Black £150
444444100 Cookcentre 110G Stainless Steel £150
444444099 Cookcentre 110G Professional Stainless Steel £150
444444101 Cookcentre 110G Black £150
444444145 Farmhouse 110DFT Black £150
444444147 Farmhouse 110DFT Cream £150
444444146 Farmhouse 110DFT Silver £150
444444148 Farmhouse 110E Black £150
444444150 Farmhouse 110E Cream £150
444444149 Farmhouse 110E Silver £150
444444154 Farmhouse 110EI Black £150
444444156 Farmhouse 110EI Cream £150
444444155 Farmhouse 110EI Silver £150
444444151 Farmhouse 110G Black £150
444444153 Farmhouse 110G Cream £150
444444152 Farmhouse 110G Silver £150
3.2 The cashback claim form cannot be exchanged for cash. There is no cash alternative to this offer.
3.3 Where the cashback payment constitutes a taxable benefit, the tax liability lies with the recipient.
3.4 In the event that the customer returns the eligible promotional product to the seller/retailer, the participant will not be entitled to claim cashback and the claim will be thereafter dismissed. For the avoidance of doubt, this clause does not prohibit in any way the customer's right to exercise their applicable statutory or warranty rights.
4. THE PROMOTOR
4.1 The promotor is GDHA (Glen Dimplex Home Appliances) t/a Belling, Stoney Lane, Prescot, L35 2XW. The promotors reserve the right to withdraw the promotion at any time.
5. DATA
5.1 Where applicable, any data captured during the course of the promotion will be collated, accessed, processed and stored wholly in accordance with applicable local data protection laws and regulations. Belling will not transmit data to unauthorised third parties or outside the EU. For full details on how we will treat your personal data, please visit: https://www.belling.co.uk/privacy-notice/
5.2 Upon registration, the participant will have provided their personal data to Belling, and 360Incentives.com, and to its agents, to carry out the promotion and to conduct marketing and quality control analysis. 360Incentives.com and its agents are responsible for securely storing, processing and transferring the participant's personal data wholly in accordance with applicable local data protection laws and regulations. By registering, the participant consents to these terms & conditions. Should the participant tick the opt-in box on the online registration form, the participant also consents that the promoter, other 360Incentives.com entities and/or their agents can process their data for the purposes of advising participants of other promotions, new products and services, and/or future marketing and quality control analysis. Participants have the right to consult and request rectification of their information as held by the promoter.
6. DISCLAIMER
6.1 No responsibility will be accepted for claims lost, delayed or for those claims not received by the closing date.
6.2 Claims will be disqualified if incomplete or illegible after midnight on 30th September 2019. It is the participant's responsibility to ensure that sufficient details are provided for claims to be processed. Stoves reserves the right to investigate and undertake all such action, as is reasonable, to protect itself against fraudulent or invalid claims including, without limitation, to require purchasers to provider further verification as to proof of purchase. In addition, Belling reserves the right to reject those claims which it considers, in its absolute discretion, are fraudulent or invalid.
6.3 Belling is not liable for any costs incurred by the participant relating to the promotion.
6.4 Belling shall not be liable for any delayed claims of any nature with regard to this promotion. However, nothing in these rules shall have the effect of excluding or restricting the customer's liability for personal injury or death cause by the proven negligence of the customer.
6.5 Belling shall not be liable for any failure to fulfil this offer where such failure is caused by any supervening circumstances amounting to force majeure (meaning: beyond Belling reasonable control) and/or events which, without the fault of either party, render performances impossible or incapable of satisfactory execution.
6.6 Belling reserves the right to withdraw this promotion at any time and/or to unilaterally change the terms and conditions without incurring any liability.
7. JURISDICTION
7.1 These terms and conditions are governed by and shall be construed in accordance with English law and come under the exclusive jurisdiction of the English courts.