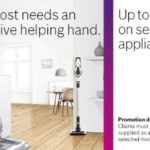 Up to £100 cashback* on selected appliances. Whether you're planning a party, a romantic dinner, or preparing for Christmas, we have a range of products to help you cook, clean, store, and steam. And with up to £100 cashback, it's the perfect time to host.
Find out more at http://www.bosch-home.co.uk/boschAutumnCashback2018
Every host needs an innovative helping hand.
Promotion dates: 05.09.18 – 30.10.18. Claims must be received by midnight 30.11.18. Cashback is supplied as a bank transfer or a cheque. *Offer applies to selected models only, chosen by your retailer. Terms and conditions apply.